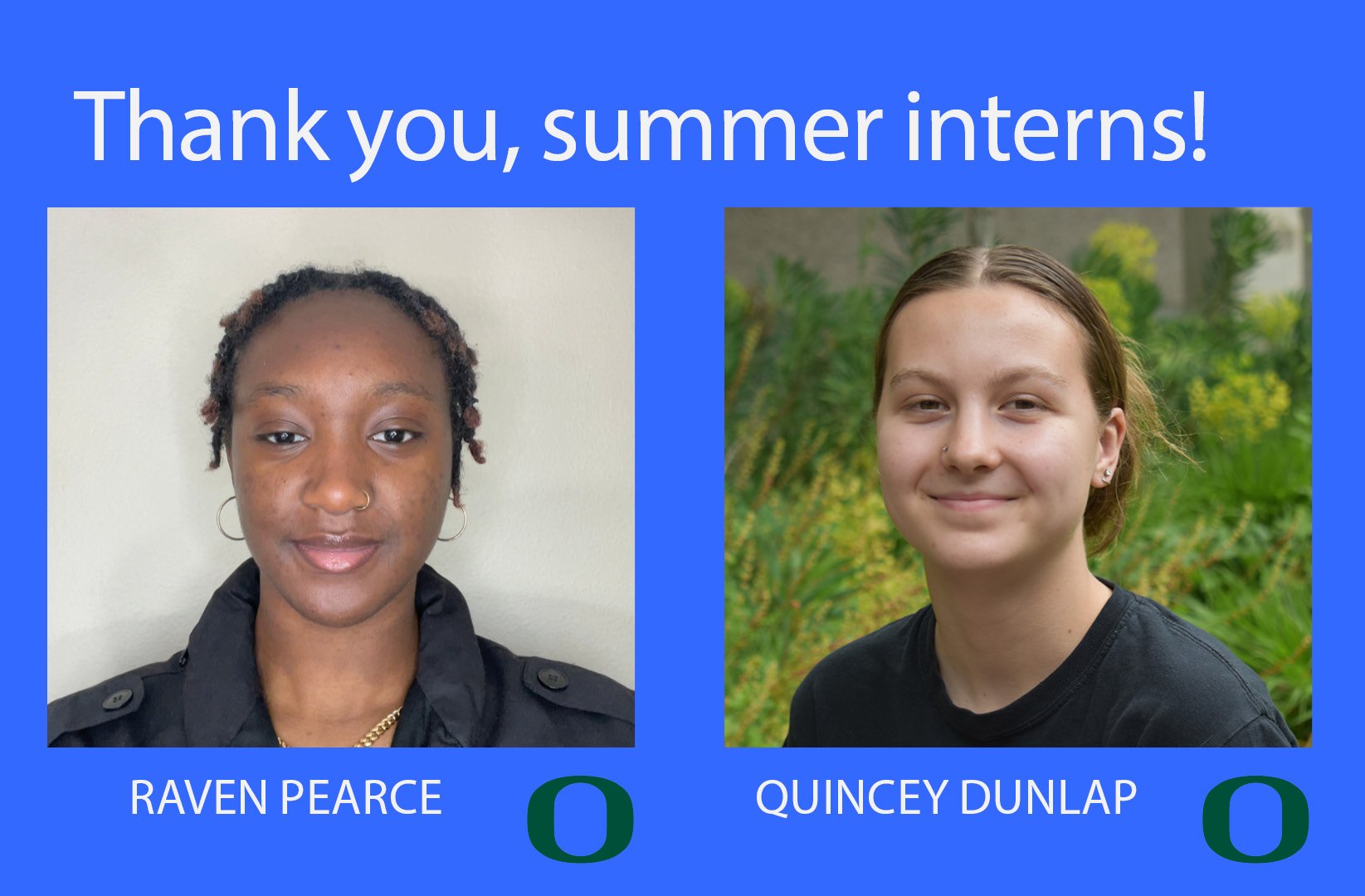 This summer, LEVER was thrilled and fortunate to welcome two student interns into the fold of our Portland office: 2nd year students Raven Pearce and Quincey Dunlap joined us from the University of Oregon this year, and not a moment too soon - between design competitions and multiple major design and construction milestones, summer 2022 was busier than ever and our project teams couldn't have done it without the contributions of our interns.
Quincey spent the summer embedded on a LEVER project team working on the design of a large-scale mass timber office building for a tech client in Washington. Raven's work touched multiple projects throughout the summer: the North Portland Library and the Albina Library, affordable housing project Albina One, and a major design competition for the Portland Museum of Art in Portland, Maine.
Student engagement is something we value immensely at LEVER, and we are grateful for each opportunity we have to be part of the next generation's path to architecture and design. Below, Raven and Quincey have graciously shared more about themselves and their studies. Thank you for a great summer!
SUMMER INTERN Q&A
Were you always interested in architecture? What drew you to study architecture?
Raven Pearce: When I was 12, my mother gave me the cut-out article of a Black woman architect making change in her community. One of the most famous magazines in the Black world, Essence was featuring her. If you were important, you were seen in that magazine. With my love of LEGOs, Origami, and paper crafts, something clicked in that moment that I could be the woman on the page. That's when my journey started!
Quincey Dunlap: I have been interested in architecture since I learned what it was. I used to play and build LEGO every day and was only interested in creating buildings, houses, and all things realistic. One day my aunt told me I should consider being an architect. She explained that it was a combination of art, design, and engineering. I was immediately hooked on the idea and have been on the path to become an architect ever since.
What excites you the most about architecture and design?
RP: Architecture pushed me to think out of the box when creating for diverse people with diverse needs. It pushes my thinking process to the limit to problem-solve a multitude of situations creating some cool designs in the end.
QD: I am excited by the idea of creating something that will exist for a long time and a structure that will benefit the community. I love designing, collaborating, and problem-solving which I believe are the core values of architecture. 
Are there any specialties, areas of focus, or particular project types that you are most interested in so far?
RP: I am interested in working on educational buildings: schools, libraries, recreational centers, community centers, etc. My sister, mother, and grandmother are educators, and I hope to design the buildings they may find themselves working in, in the future.
QD: During my first year in college I ensured that accessibility features in the design projects I worked on were a priority. Having family members with disabilities has heightened my awareness of the need for universal access.
What are you most looking forward to in the coming school year?
RP: I am looking forward to taking the skills I learned at LEVER to propel myself this upcoming year in my architectural classes.
QD: I am most looking forward to being back in the studio and creating again. The skills I have learned here at LEVER including laser cutting, Rhino software, and model making will enhance the work I produce in my second year. 
Outside of school and interning - what are your favorite things?
RP: I am a musician, singer, writer, avid reader, and yarn craft enthusiast!
QD: My favorite things outside of school and interning are listening to music, hanging out with my family and friends and being creative. I love watching different TV shows. Currently, my favorites are House of Dragon, RuPaul's Drag Race, and Survivor. I enjoy the Portland food scene. My go-tos are Maya's Taqueria and Nong's.