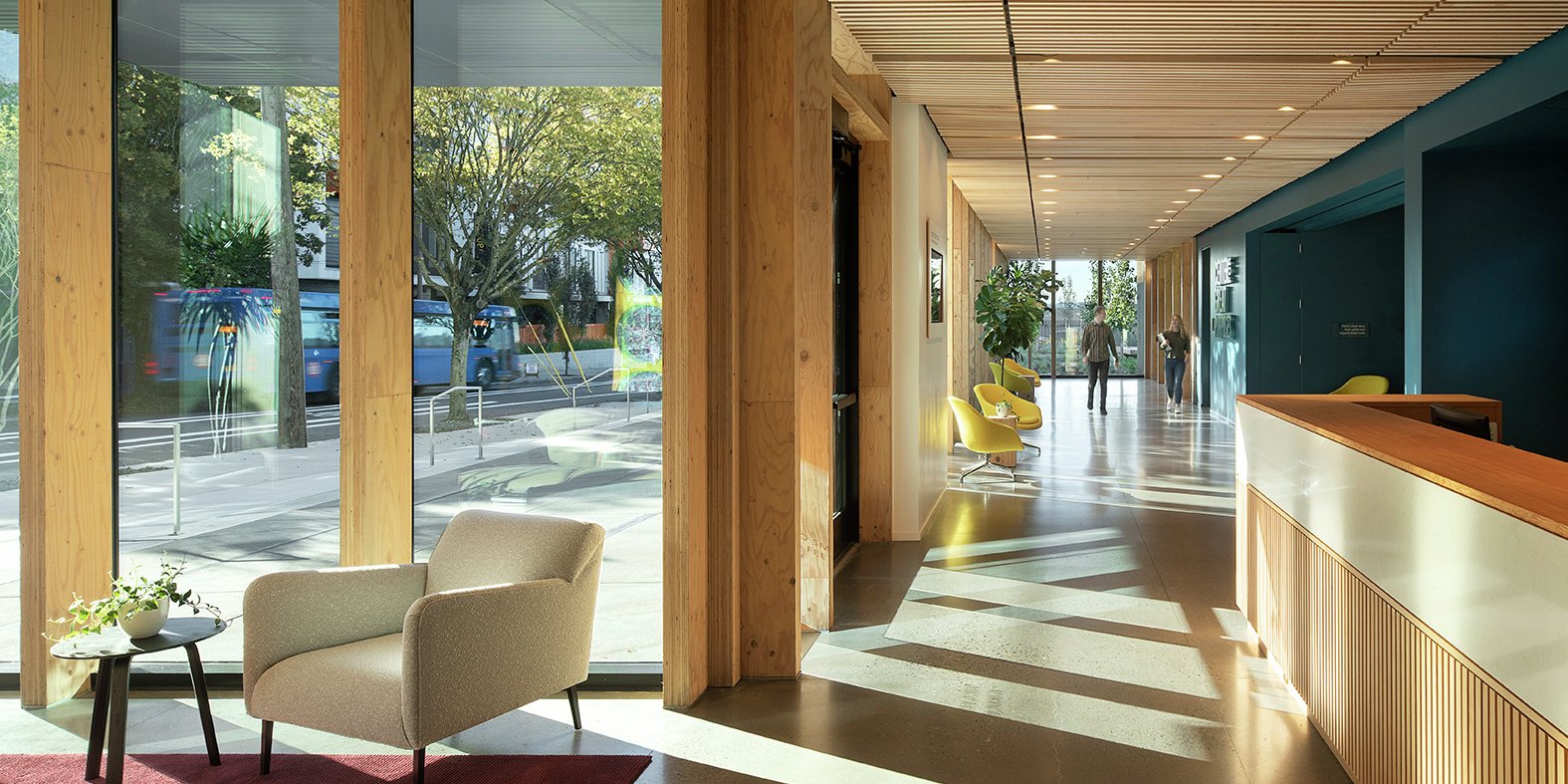 For the design of Meyer Memorial Trust's new headquarters, wood as a primary building material was selected with the goal of increasing the project's overall impact towards equity and sustainability. While considering wood procurement, these two key goals were viewed as interconnected, with the unique potential to amplify each other and connect rural and urban Oregon. Our team partnered with Sustainable Northwest to establish innovative wood sourcing criteria that forged a dialogue between the project team, the client, and the supply chain, to break down barriers for sourcing sustainable wood.
The criteria supports forests that are managed intentionally for carbon sequestration, worker rights, human health, water, wildlife habitat, and biodiversity. Wood was sourced locally and met the equity goals of supporting minority-owned businesses, safeguarding rural jobs, engaging local FSC-certified businesses, and encouraging climate-smart forestry. The result is that 85% of the wood in the building met the project's definition of "sustainable wood" with 49% being FSC-certified.
When the source forest for a product is known, our criteria prioritized: Oregon-grown and Pacific Northwest-grown wood; wood from forests managed to maximize carbon sequestration; wood from forests that utilize selective harvesting; wood from forests where ecosystems are valued, protected, and preserved; wood from forests that avoid the use of chemicals; and wood from forests that take a science-based approach to protecting drinking water.
When no information about the source forest for a product was available, our criteria shifted to prioritize: FSC-certified wood; wood from National Forest restoration projects; wood salvaged from the waste stream (for example, wood chips and sawdust); and urban wood salvage (removed city trees that are not considered timber).
In cases where wood products could not meet any of these criteria, either because the products were not available, the source forest information was not available, or the premium was too high to accommodate, we sourced products as locally as possible, prioritizing those from Oregon first, the Pacific Northwest second, and the United States as a minimum baseline.
Full details about our sourcing criteria and the process to develop and apply them can be found in Sustainable Northwest's case study, "Meyer Memorial Trust Headquarters: Using Wood Procurement to Achieve Community, Equity and Conservation Goals."